New 2010 Polaris RZR XP4 1000 "Monochrome Madness"
NEW 2010 Polaris RZR XP4 1000 in Monochrome! Below are nice shots of this beautiful machine and some incredible aftermarket accessories that are must-haves for any SXS enthusiast.
With almost every build, there comes an aftermarket, Roll Cage. DG Offroads' RZR XP4 1000Roll Cage, powder coated in Silver, comes with the main bars and radius rear bumper.  An option for customization to the roll cage, we added the Axia Alloys' 9" Wide Bolt On Panoramic Rearview Mirror. These mirrors are only convex in the horizontal direction so that your surroundings appear exactly where they are in relation to your vehicle.  Added to the radius rear bumper you will see the Outdoor Logic's Rear Suspension Plate with SXS Performances' iconic "Buggy Logo" design for the finishing touch, and then powder coated in Silver to match the color scheme and complete this radius roll cage's unique look.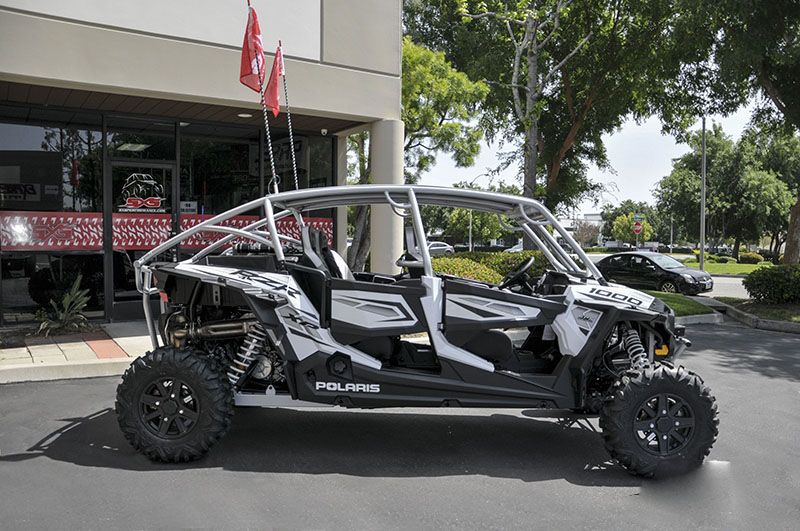 Next, we show some comfort and safety accessories that will make your ride smooth and more importantly safefor you and your passenger. PRP Seats provided these very comfortable and stylish GT S.E Front Suspension Seats and Rear Bench Seat with a Black, Grey and Silver body with Malcolm Smith Motorsports' classic logo embroidered on the headrest. For safety, PRPSeats has included their reliable 5.3 Harnesses' with quick adjusters on the shoulders to ensure comfort and the right fit every time. With the Stock Front Door bags and the Stock Rear Door Bags by PRP Seats your belongings will stay safe and your knees will be happy while you are out riding.
SXS Performance installed this accessory that allows additional placement of key switches right at your fingertips. With Outdoor Logics' 3 Switch Panels you can be sure your switches are secure and easily accessible.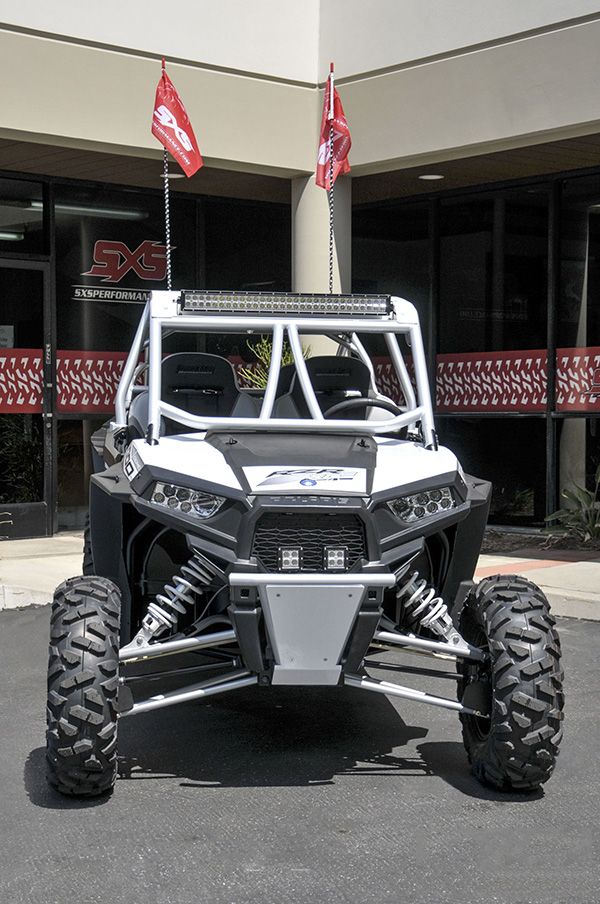 To light up the night sky, we installed Dual 4-foot LED Lighted Whipsby Sick-Stick that include a 20 key remote with 20 different light color choices. The dual output controller allows you to run two ships in sync with the same remote. Choose between 7 different whip colors that will ensure that you will be the envy of all your friends! We also added to the roof Outdoor Logic's; 30in LED Light Bar, Front Bumper with a set of LED Cube Lights.